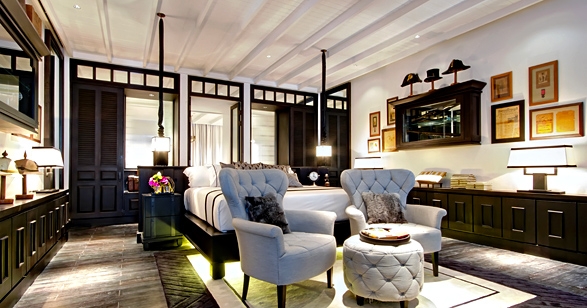 The Siam is one of the most talked-about Asian openings in years. This comes as no surprise, given the team involved in its creation — American designer Bill Bensley; New Yorker Jason Friedman, one of the best of a new generation of hotel general managers; and the Sukosols, a Thai family deeply involved with the arts.
The Siam is located in the historic Dusit district, near many of the city's most famous attractions, including Wat Pho and the Grand Palace. Occupying three acres of landscaped riverfront, the property is centered on the Main Residence, containing an impressive atrium with full-size palms, giant ferns and an elevated black granite fountain. Overall, the interior combines the style of the King Rama V period, 1853-1910, with elements of art deco.
On our arrival, our butler led us to our Pool Villa Courtyard suite. It proved to be a stunningly beautiful little complex containing a stylish living room and a cleverly designed bedroom with a soaring ceiling, ebony floors and a sofa covered in jewel-tone silk. The real showstopper, however, was the bath, with its black-and-white marble floor and huge stall shower. Outside, a large plunge pool was set in a private interior terrace surrounded by lush tropical greenery.
Three century-old Thai teakwood houses now serve as a bar, cooking school and restaurant. The outstanding Chon Thai Restaurant serves utterly delicious local cuisine. Other amenities include a 70-foot infinity pool overlooking the river, and a fine spa.
For such a new property, the service at The Siam is extremely impressive. Overall, it is a hotel that caters to the needs and tastes of the discriminating individual traveler.
Riverview Suite, $720; Pool Villa Riverview, $1,185. 3/2 Thanon Khao, Vachirapayabal, Dusit, Bangkok. Tel. (66) 2206-6999.